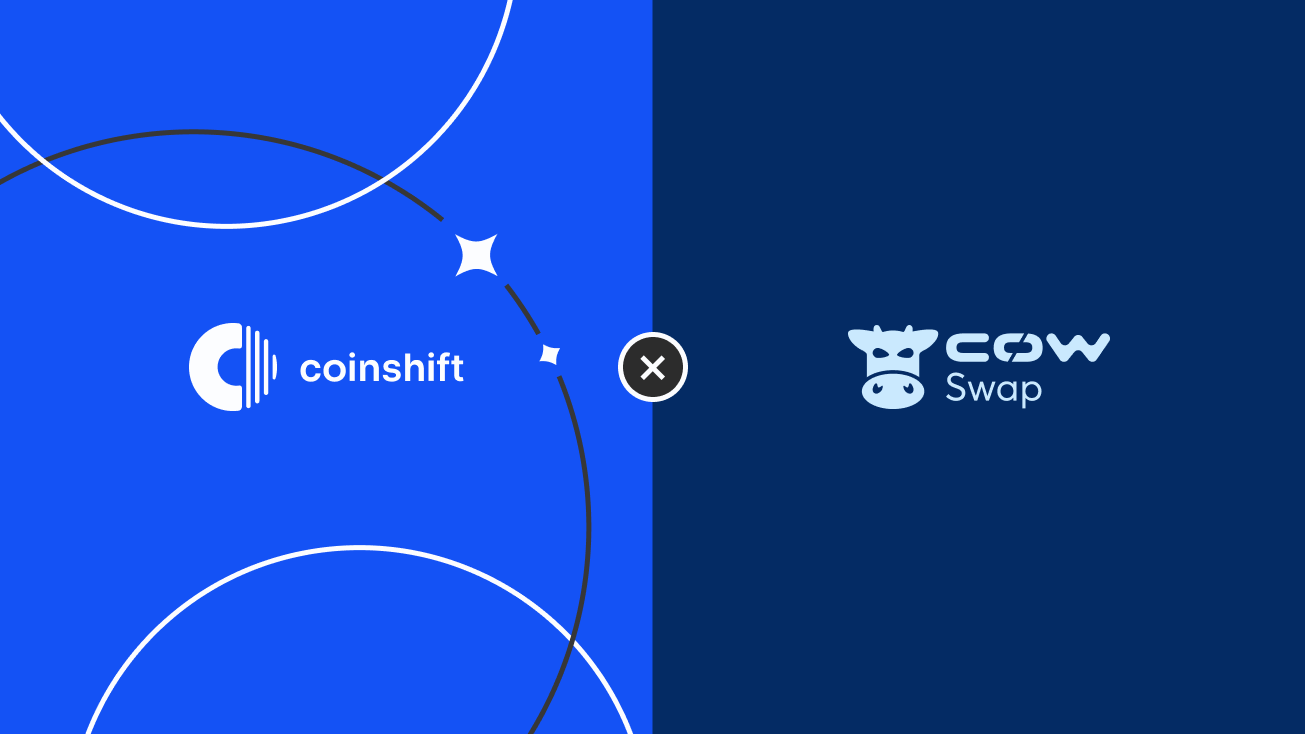 Coinshift is excited to announce a new partnership with CoW Swap as part of Coinshift Apps. The goal of the partnership is to offer a superior multi-sig swapping experience for CFOs and treasury managers.
CoW Swap's limit order feature offers an effective solution to control trading prices, particularly useful in a multi-sig environment, where not all signers may be available at once, potentially leading to price slippage. Limit orders prevent price slippage by executing only at the user-specified price.
---
Key features and benefits of Swapping with CoW Swap and Coinshift Apps
Limit orders

enable automatic transactions at desired prices, crucial in a multi-sig environment

Access to all on-chain liquidity

ensures smooth and uninterrupted treasury operations operations

Protection against MEV attacks

reduces treasury management risks

Batch transactions

allow treasury managers to approve and swap tokens simultaneously, enhancing operational efficiency and reducing gas cost

Transaction proposals

ensure no transactions are blocked in the sequential multi-sig queue

Human readable data

shows the intended actions, giving the 2nd, 3rd and 4th signers confidence when signing/executing a transaction

Custom labels

and

notes

increase the transparency and efficiency of treasury record-keeping

Slack and Discord notifications

keep users up-to-date and confident over the entire transaction lifecycle
About CoW

Swap
CoW Swap is the first aggregator trading interface built on top of CoW Protocol. It allows users to buy and sell tokens using gasless orders that are settled peer-to-peer or into any on-chain liquidity source while providing MEV protection. CoW Swap offers users competitive trading prices and liquidity by leveraging multiple DEXs and AMMs.
About Coinshift
Coinshift Apps extends the Safe Apps experience for CFOs and treasury managers through transaction proposals, batching, and human-readable data, laying the building blocks for DeFi accounting. With Coinshift Apps users can seamlessly interact with dApps directly from their multisig Safe, greatly increasing the operational efficiency of their treasuries.
Learn more about swapping with CoW Swap and Coinshift Apps
Are you interested in partnering with Coinshift? Reach out to us on Twitter!
Coinshift (@0xCoinshift) / X (twitter.com)